Once a peasant's staple food, the ancient grain of Spelt is currently enjoying a resurgence in popularity, due to its low gluten content and easy-to-digest properties, making it more easily tolerated by those with wheat sensitivities. But it takes a very specialised supplier and centuries-old milling skills to reproduce flour of this quality and consistency.

This September, in association with leading European bakery ingredients manufacturer IREKS, we once again celebrate the Spelt harvest with 'Speltember,' a month-long promotional campaign to inform customers (and consumers) of the origins and the benefits of this ancient wheat variety.
IREKS produce their speciality SPELT & HONEY mix with spelt that is cultivated in the "Rhön" region in Germany, an area known for its suitable climatic conditions and quality soil. The raw material is harvested in August of every year, and passes through the IREKS factory in September, where they produce a market leading complete mix featuring 100% Spelt with sunflower seeds, coarsely ground lupin seeds and sesame - complemented with a generous portion of honey, producing a nutty aromatic taste for rustic bread, rolls and even cookies and scones.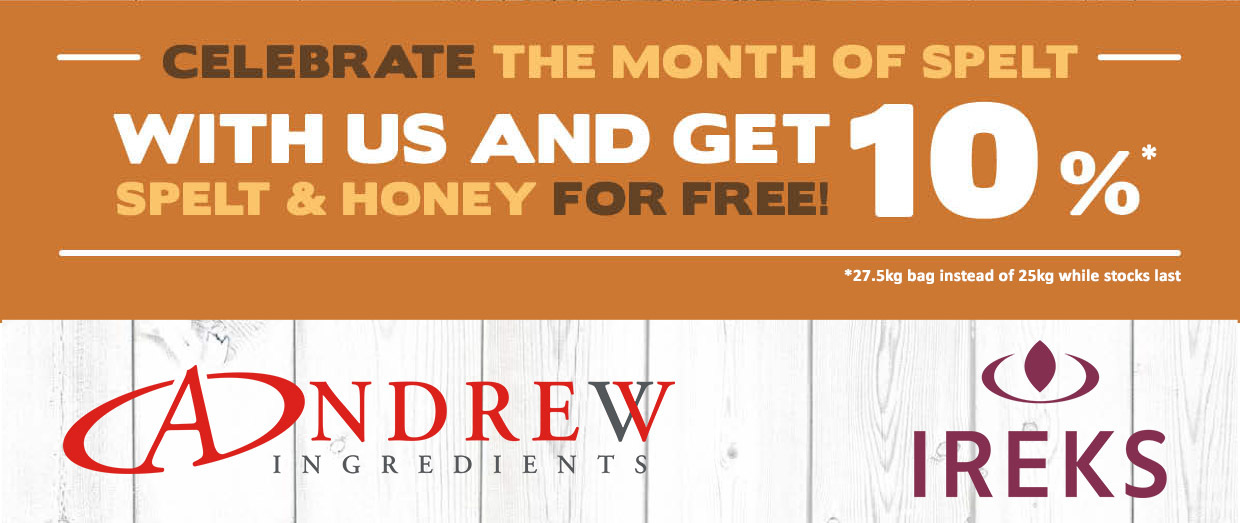 There are a few primary differences between Wheat and Spelt:


Spelt is a tasty alternative to wheat, with a delicious nutty flavour and with greater nutritional value. It contains more protein, amino acids, fibre and polyunsaturated fats than wheat, has large amounts of B complex vitamins and is easier for the body to digest and utilise.
Spelt is a relatively low yielding crop and doesn't take as much from the soil as more modern crops, making it a more sustainable crop in the long term that thrives without the application of fertilizers.
Being an ancient grain, Spelt has not been adapted for modern harvesting, so it has an extremely tough exterior hull that naturally protects the kernel from disease, pests and mildew.
Throughout the month of September, as part of 'Speltember' Andrew Ingredients will provide hands on technical support to help customers get the most out of their IREKS spelt products.
Check out our creative range of recipes including spelt and honey soda bread, scones, chocolate raisin rolls and cookies.
A generous promotional offer of 10% extra free (27.5kg bag instead of 25kg bag) applies to all IREKS Spelt and Honey Mix sales throughout the campaign (while stocks last).