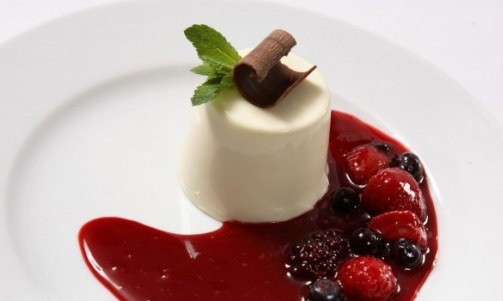 Ingredients
Click

to Add/Remove item to your
Shopping List
Macphie Panna Cotta Make Up Instructions
Email Recipe
Download Recipe
Print Recipe
Macphie have developed Panna Cotta which can be used on its own or developed in conjunction with other ingredients to produce delicious desserts. Macphie Panna Cotta is a smooth liquid product which on heating and subsequent cooling, sets to give a luxurious, creamy Panna Cotta. The product comes in 12 x 1 litre packs.
Method
Heat liquid just to the boil (85°C-95°C) ensuring that the liquid is stirred continuously.

Pour product whilst hot into suitable mould or dish. Allow to cool then place in chill until set.  (normally 1–2 hours).

 Prior to serving turn out of mould and serve with fresh fruit, Macphie fruit coulis or sauces or a fruit compote.  

Serving Options:

More cream can be added whilst the product is being heated if a 'looser' set is required.

If a creamier colour is required some brown sugar can be added to the liquid during heating.

Flavours and ingredients can be added to Macphie Panna Cotta to produce variations e.g. cinnamon for a Christmas theme, espresso granules, vanilla pods which give visible specs through the Panna Cotta, lavender, and alcohol (up to levels of 10%).